Hebron: Separate, But Not Equal
By Erez Zukerman
On Friday, 16 June 2012, I went on a tour of Hebron organized by Breaking The Silence, an Israeli NGO composed of soldiers telling their stories about the Israeli occupation and what it's like out there.
The tour was eye-opening and I've learned several interesting things. Reality in Hebron, and in the occupied territories in general, is very complex and nuanced, and I would not even attempt to describe it objectively. Instead, I've decided to write about my own subjective experience -- this is just how I see things, and there are the most striking facts I've learned.
The Straw Widow
On the way to Hebron, our guide, Avner Gvaryahu, told us a bit about his own military service. Avner grew up as a religious Jew, and was a paratrooper in the army -- a fighting role, and one he's proud of to this day. He introduced us to a new term (new for me, at least): A "straw widow" (Almanat Kash, in Hebrew).
A straw widow is a military procedure in which Israeli soldiers take over the house of a civilian Palestinian family, usually in the middle of the night. All members of the family are rounded up and put into a single room, and the soldiers then take positions within the house according to their operational purpose (gather intel on another house, etc.).
The family members are not suspected of any hostile behavior -- their house just happens to be strategically located. Once they're all put into the room, they must ask the soldiers for permission to go to the bathroom or the kitchen. They may not leave the house for any reason, including work or school -- they just don't show up on that day. Their cellphones are taken away so they cannot notify the outside world of what's going on.
Avner told us of his first straw widow operation. After entering the house in the middle of the night and putting the family into the room, the soldiers staked out their positions and waited for further instructions. In the middle of the next day, someone wearing a uniform (not Israeli Defense Force) knocked on the door, and shortly thereafter Avner and his comrades were told to leave the premises and go back to base.
Avner thought that perhaps they'd done something wrong, or botched the operation in some way. He then found out that it was just a dummy run: The family was real enough (and innocent), but there was no operational need for the straw widow. The army just did it for practice. Turns out that this is a routine occurrence -- the IDF often practices on civilian population in the occupied territories. According to Avner, the army also practices arresting potential suspects this way: Innocent civilians are suddenly rounded, handcuffed, blindfolded, and taken away. A few hours later they are released and thanked for their cooperation.
Avner told us that after his third or fourth straw widow, he just stopped seeing the Palestinians -- they no longer registered as human beings, really.
Avner also discussed the Jewish people's long-standing connection with Hebron -- there has been a Jewish settlement there for thousands of years, and it is one of the four holy cities according to Jewish tradition.
Facts and Figures
To establish a bit of context, here's a map of Hebron: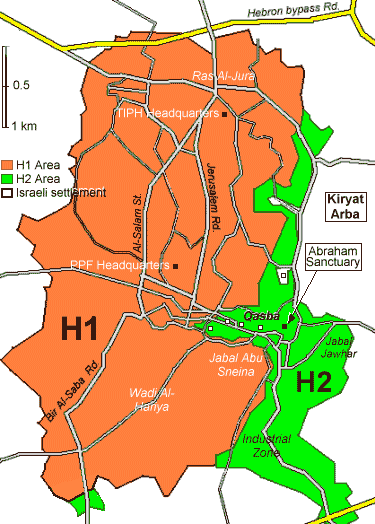 H1 is under Palestinian control, and H2 is under Israeli control. H2 contains 30,000 Palestinians and 700 Jewish settlers. Kiryat Arba is a Jewish settlement (outside of the 1967 borders), containing 7,000 more settlers staking their claim on the area.
Two Classes Of Citizens
Meet Baruch Goldstein. He was the doctor of Kiryat Arba; in 1994, he entered the Cave of Patriarchs with a gun, and opened fire on Muslims worshipers, killing 29 of them and wounding another 125. The thing is, there were Israeli guards there who watched him do it, but they couldn't do anything because he's an Israeli citizens, and their rules of engagement specifically said they can't shoot at Israeli citizens.
This is the Shouhada street, which has been mostly closed off for foot traffic by Palestinians. The section pictures hasn't been entirely closed off: On the left of the barrier is the narrow part, in which Palestinians may walk. On the right is the broad part, in which Israeli citizens may walk and drive cars. Yes, I'm serious.
Other parts of the Shouahada have been hermetically closed for Palestinians, and they cannot set foot in the street, while Israelis can freely walk there. That applies even to Palestinians who live right on the street: They may not leave their house's front door, and they often don't have another exit. To get anywhere, they must climb on the roof and hop from roof to roof, until they get to a street where they're allowed to walk.
The Israeli army says this is for "security," but in fact, it is very easy for Palestinians to get from anywhere within H2 right to the Shouhada street -- they don't even have to go via any checkpoints. So it's not about security at all, but more about establishing control and showing the local population who's the boss.
Two Sets of Rules
The Palestinians are not angels; there is violence on both sides of the fence. But when there is Palestinian violence, the Israeli army has very clear procedures for dealing with it, and there's absolutely no problem to use force as needed.
However, when Israelis act violently, the army has a problem: It has no jurisdiction over Israeli nationals, and may not use force to deal with them. The whole area is covered with security cameras remotely monitored from Israeli bases. When a soldier monitoring one of these cameras saw Israeli settlers using violence against Palestians, he told his commanding officer. The CO then relayed the footage to the Israeli police so they could act against the settlers. Both the soldier and his CO were then harshly disciplined, and an official order came out never to use this footage to incriminate Israeli settlers, but only against Palestinians.
When a 12 year-old Palestinian throws rocks at a military patrol, he can immediately be taken into custody and held for up to 48 hours without seeing a judge.
When a 12 year-old Jewish settler boy throws rocks at a the same military patrol, the patrol may do nothing. They may call the police, which usually takes over two hours to get there, but even then the police may not do anything with the boy because he's too young.
The Jewish settlers know this, and use this. Avner told us of a group of ten young settler girls, aged less than fifteen, who once went into the Palestinian market and started destroying property. The army went in, fearing for the girls' lives, but could do nothing to stop them. Eventually the soldiers formed a human wall and slowly guided the girls out, after they created massive damage for the Palestinian traders there. Nothing could be done to stop the girls. You can imagine what would happen if the reverse were to occur (i.e, a group of Palestinian youths trying to do something violent to Israeli settlers).
Moral Decay
What happens in Hebron and in other cities doesn't stay there. The soldiers who have to live in this reality then go back into Israeli society, and that affects us all.
More Photos and Info
You can see more photos from my tour to Hebron here, and read testimonies by Israeli soldiers who have served in the occupied territories here. Breaking the Silence also accepts donations.
And one last note: Nobody asked me to write this story, and nobody is paying me for it. I just wanted to show you something about my country I think you should know. There are many good things about Israel, but this occupation and gross violation of human rights must stop if this country is to survive in any sort of civilized state.